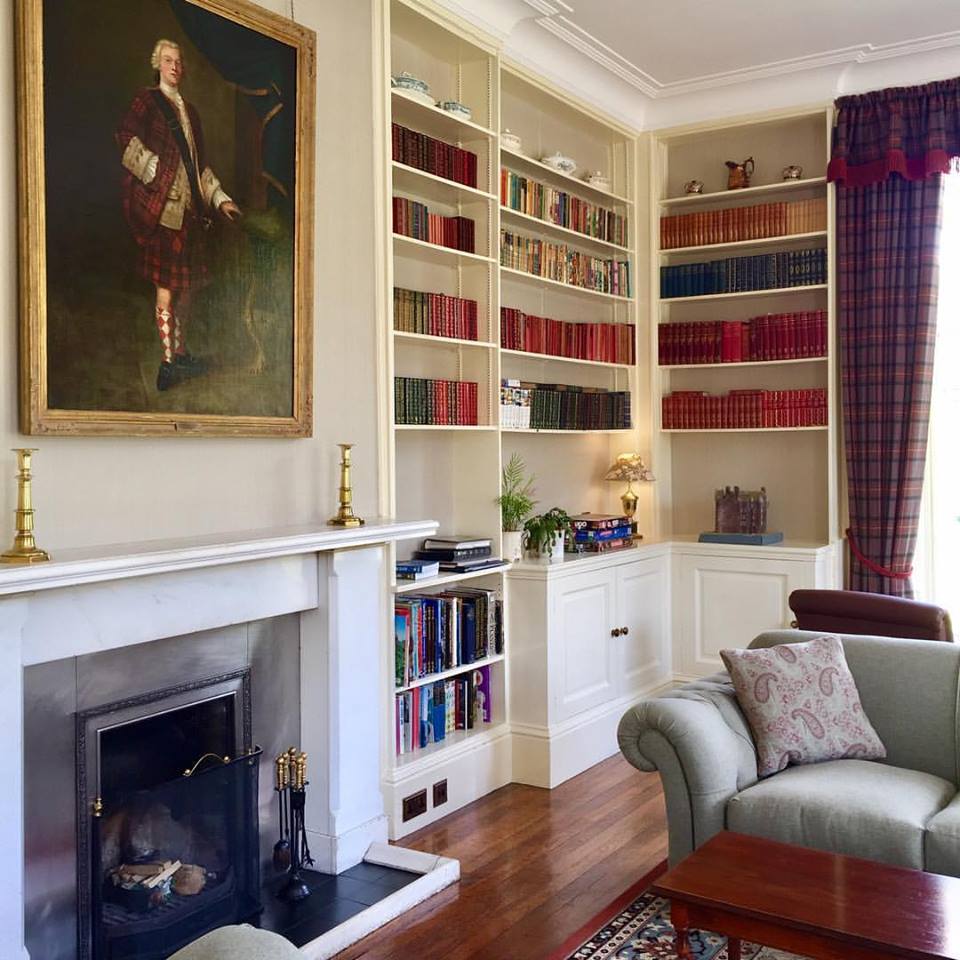 I've loved using tartans and plaids in my interiors ever since I moved back home to the Highlands almost thirty years ago.
Not in the kitsch way you often see it in tourist establishments, plastered indiscriminately over walls, floors and furniture in rather garish colours, but rather as a reflection of the natural hues of our landscape, and a rooting of the Highland home within its cultural and historical context. My library of sample books is overflowing with these woolly checks, some in the traditionally muted hues of a Hunting or Weathered tartan and others in wonderfully bright 21st century colours, celebrating the autumn heathers, the sap greens of spring and the sparkling emeralds of the sea lochs in summer.
For the refurbishment of  Glengarry Castle's library, it seemed appropriate to reflect some of the rich history of the area in the interior decoration – so where better to start than with the MacDonnell tartan…under the watchful eye of  Alasdair Ruadh MacDonell of Glengarry from his lofty position above the fireplace.
Even more appropriate, I found, when researching the various forms of the MacDonnell of Glengarry tartan, as according to Ivan Baillie of Abriachan, writing in 1768, the feileadh beg, or little kilt, had first been adapted for wear half a century earlier, around the year 1718. Thomas Rawlinson, the English owner of an ironworks located in Glengarry had invited a regimental tailor named Parkinson into his home to take shelter from a thunderstorm. Parkinson noticed one of the local men who worked in Rawlinson's foundry standing by the fire in an effort to dry off the breacan feileadh that he was wearing. Inquiring as to why the man didn't simply remove the garment to allow it to dry more efficiently, Parkinson was informed that it was a matter of decency, since no garments were worn under the kilt…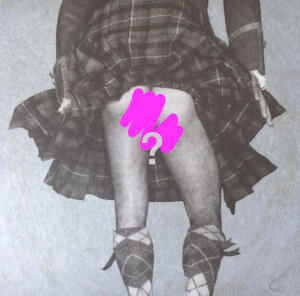 At Rawlinson's suggestion, Parkinson took it upon himself to figure out a means of adapting the native form of dress worn by the Scottish Highlanders to make it more practical and efficient. He came up with the idea of separating the lower portion of the breacan feileadh and making from it a tailored  garment having its pleats sewn in place, while the upper portion of the plaid could be worn or removed independently as necessity dictated, and thus produced what several corroborating sources attested to being the first known instance of the feileadh beg or "little kilt." This new form of the kilt soon gained enormous popularity owing to it being adopted by Ian MacDonnell of Glengarry, the business partner of Thomas Rawlinson and chief of the Clan MacDonell, who began wearing it on a regular basis!  Well, well, well…
Having looked at the various forms of the tartan, I settled on the Weathered, which reflected the colours of the garden, the loch and the surrounding hills…then layered tweeds, paisleys, velvets and leather to give added warmth and texture. I hope the end result meets with the approval of Alasdair Ruadh, as he doesn't look like a chap to hold back…